STEVE LOREE
PRODUCTIONS
Hi. I'm Steve Loree: freelance mixer, recording engineer, music producer and live sound mixer.

My studio, in the small town of Nanton, Alberta, is set up to record bands live off the floor. We've done serious metal and roots albums from load in to mix down in three days.

I also do a lot of location and remote recording.

With over 150 records produced to date (14 of my own written and recorded under various monikers), I know the weight of effort that goes into every album and, more importantly, the financial stress that the work is successful. My job is to make amazing records so artists can feed their families.

I accept all sorts of mixing and editing work as well as mix rescue and forensic audio work.

As sound production manager for Wayne Stock, South Country Fair - East Stage, Black Diamond Music Fest, and Beneath the Arch. my goal has been to elevate the audience experience through pristine audio… and encourage great performances through providing comfort to artists on stage.

I also play guitar and pedal steel in Jr Gone WIld, Petunia and the Vipers and Tin and the Toad.

Music is a powerful force, particularly when it is handled and delivered appropriately. I have a vocals first philosophy and practice the bluegrass tradition… but, there is nothing quite as fun as mixing live punk rock!
SERVICES
It is truly an honour to be entrusted with someones music. I mix most days and treat every song with the same level of respect. As an editor I have built beautiful performances out of difficult situations but always tread lightly. I charge by the song.
Every project is completely different, every situation has its own necessities and everyone expresses musical vision in their own way. I strive to come to work prepared and open minded everyday. I'm always looking for interesting projects.
I have built three recording studios. I have refurbished acoustic treatment and sound systems in live music venues, halls and churches. I support live music. I'd love to help you out.
I enjoy mixing bands live to radio, in a festival environment, in the Canadian wilderness whenever I get the chance. I used to work for the Edmonton Eskimos doing their press conferences. I have mixed Princes, Prime Ministers, Premiers, Mayors and Gretzky. I'm happy to join your union.
I get to mix some cool places on a regular basis. Often with acoustic groups or in a bluegrass tradition. I like mixing heavy and extreme music as well. When on tour with Petunia and the Vipers I mix the band while playing pedal steel. Bring it on, I'm for hire.
I rent small sound systems for music events by appointment. I have two sets of festival backline for rent by appointment. I'm an expert in corporate event audio (from a previous life) if you need assistance sourcing gear or solving problems.
We've built a wonderful team of mixers and wranglers to bring your small to medium music festival to life. Nothing sounds better in the rain than a rental PA. The artist and the audience experience is so important to me I find it hard to put into words. I do have a large tarp collection though. Reasonable rates for quality sound.
TESTIMONIALS
"Steve Loree is a brilliant and meticulous sound engineer. Since Steve began creating the sound for Beneath the Arch Concert Series, we have had nothing but rave reviews from the artists and our audience.

His personal attention to detail, his critical thinking skills and his astute and innate ear cannot be matched. Steve adds value to this perfect mix by being a wonderful human being with a great sense of humour… He always meets the needs of the artist and the audience."
Suzanne Searle, Artistic Director, Beneath the Arch Concert Series, Turner Valley, Alberta
"Steve has an incredible depth of knowledge and experience in his field, and his ability to bring joy to his craft is undeniable. His professionalism is paramount, and this is always coupled with the innate understanding that great sound is a process that comes with communication, patience, and collaboration."

"Steve has the ability to put the artists he is mixing at ease, and by doing so, he not only delivers great sound but also aids in the delivery of a great performance. His work ethic and attention to detail are always above and beyond, and the amount of positive audience and artist feedback garnered over his years with our festival truly speaks for itself."
Gillian Moranz, Artistic Director, South Country Fair
GEAR
---
Mics
1- Telefunken CU 39
2 - Microtech Gefell Umt 70
2 - Neumann 184
1 - Neumann Fet47
2- Royer 121
1 - AEA R84
1 - Shure Beta 51
1 - AKG D12
1 - AKG D120
1 - Shure Sm7b
4 - Sennheiser 421
6 - Shure SM57
2 - AKG 535
2 - Rode NT4
2 - Crown PZM
2 - AT 4033
8 - Radial DI's
12 - Shure sm58
2 - Sans amp DI's
---
Consoles
1 - D & R Merlin 48 x 48
1 - Midas F32
---
Preamps
12 - Channels Aurora Audio
12 - Channels Focusrite ISA
---
Outboard
1 - Lexicon PCM 60
1 - Yamaha SPX 90
Korg SDD 2000 sampling delay
Roland SDE 1000 digital delay
Loads of stomp boxes - Original Fuzz Wah, Big Muff, Cry Baby, Tube Screamer, DM2, Memory man. Line 6 DL4...
---
Dynamics
2 - Distressors
1 - SSL FXG 384
1 - API 2500
1 - Valley People Dynamite
2 - Urei LA4 Blackface
2 - Urei LA4 Silver face
1 - Drawmer DL241
1 - Waves - Maxx BCL
---
Monitors
Barefoot Micromains
Genelec 1029a
Yamaha NS 10 with Bryston 2b
---
EQ
1 - A Designs Hammer 2
1 - API 550
DAW
SSL Alpha-Link - MX4
UAD Quad Core
WAVES
SOUNDTOYS
SLATE DIGITAL
I have used Nuendo for twenty years and accept Pro Tools, Logic and any other audio source.
Instruments and Amps
Fender Pro Reverb
Fender Deluxe
Fender Champ
Fender Princeton Reverb
Magnatone 421
Musician 100rd
Pine Electric
Marshall JCM 2000
Heintzman and Co Upright Grand 1919
Martin D-15 acoustic guitar
Fender Jazz bass
Gretsch Baritone Guitar with bigsby
Stella parlour guitar
Fender Telecasters
Casio Controller (weighted keys)
Pearl Maple Shell drum kit
Sonor drum kit
Tama Rockstar drum kit
Various percussion pieces - Tamborines, shakers, chimes, rain stick, cow bell, clave ...
GALLERY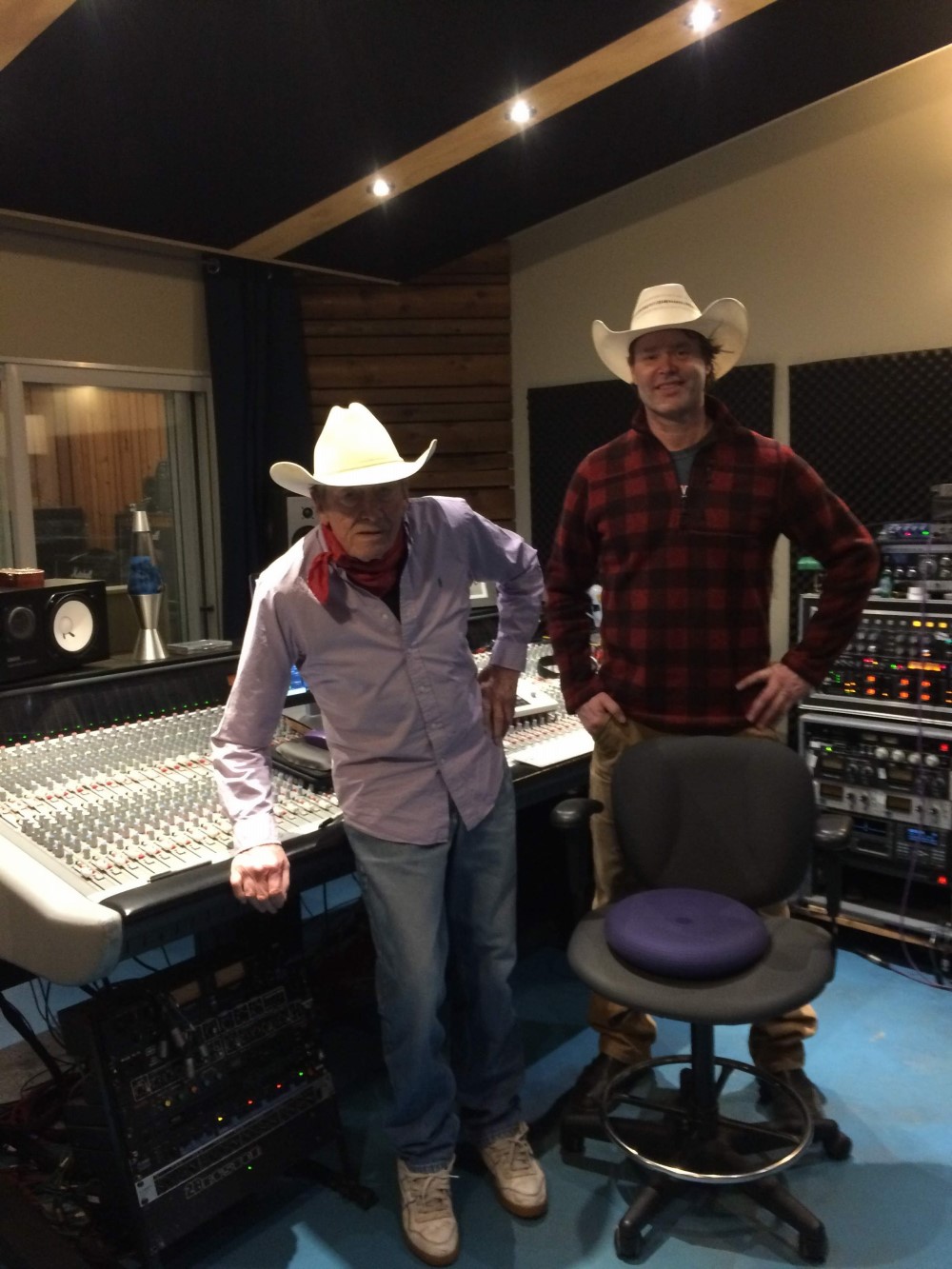 Ian Tyson and Corb Lund
Steve and Petunia
The Shit Talkers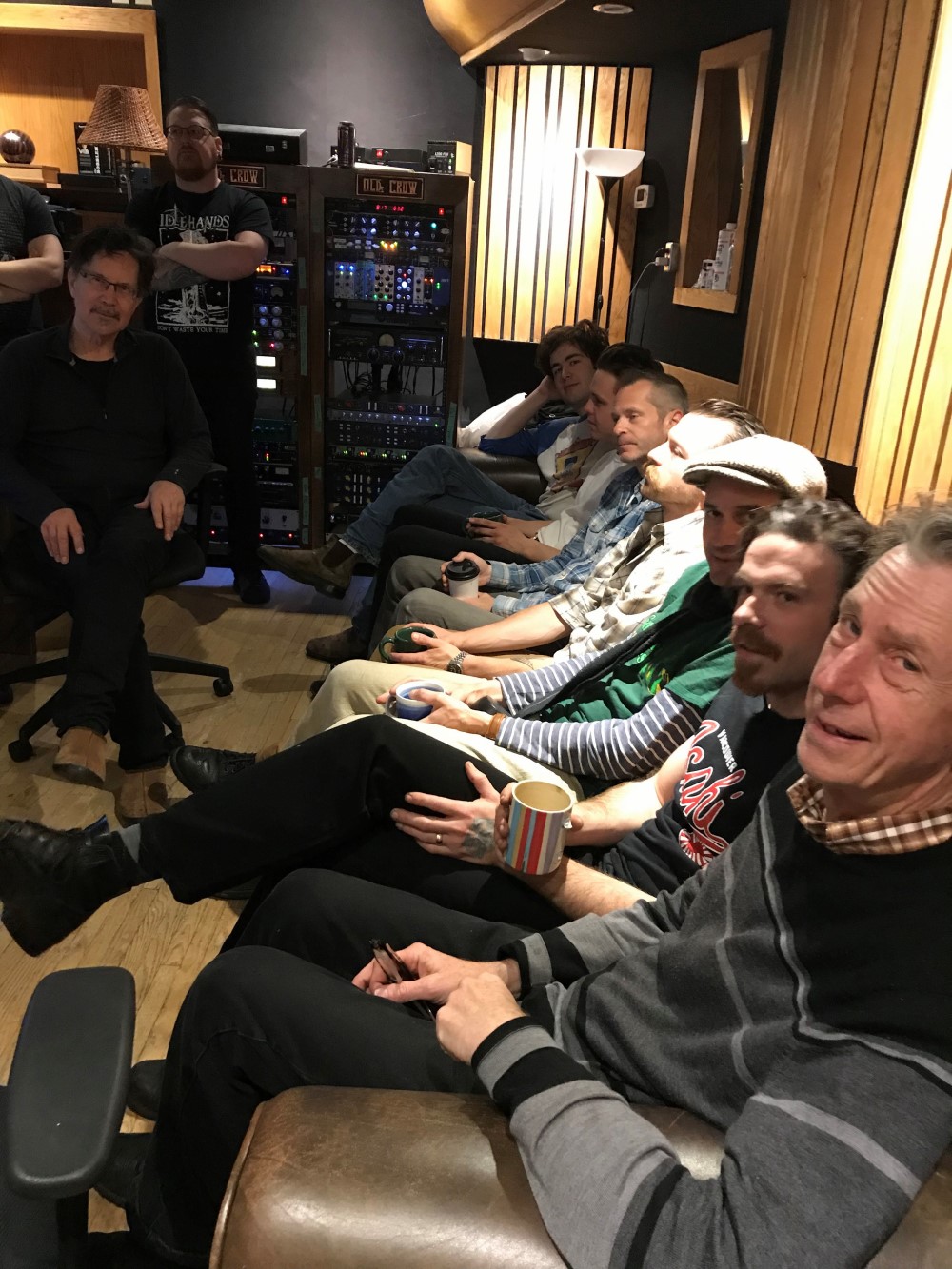 Petunia and the Vipers
Carolyn Mark and Band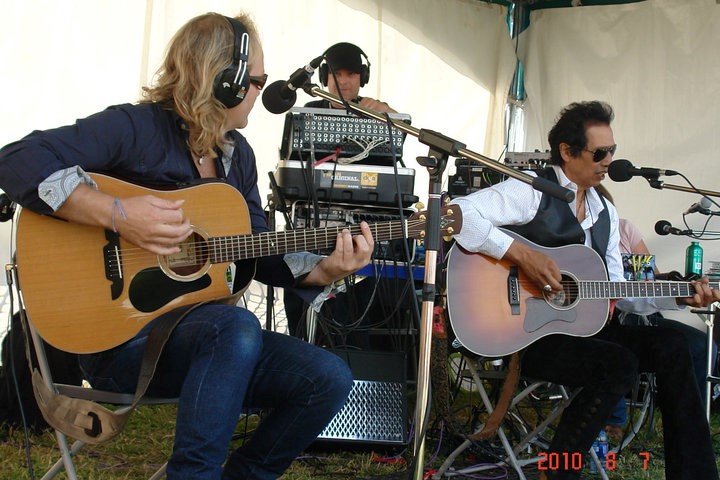 Steve mixing Alejandro Escovedo live on CKUA